There's a new special day of the week at the eStore...Surprise Saturday!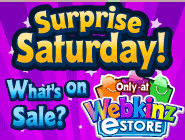 Today the prize are a few charms:
There are also some new items:
The Night and Day Bed:

The Mini-Yeti Forest:
Pond with Fountain:
The Four Seasons Tree:
Enjoy! I'll probably be adding these to our picture gallery today or tomorrow!